Xiaomi news
Nipping at Apple's heels, Xiaomi is currently the fifth largest producer of smartphones in the world – but a strategic alliance with Samsung looks set to propel the Beijing brand to even greater heights.
Xiaomi has partnered with Samsung on the South Korean giant's new generation of Isocell Bright 64MP and 108MP image sensors – which will debut in Xiaomi phones even sooner than they appear in Samsung's own devices…
Xiaomi Mi 108-megapixel
An as-yet-unnamed 108MP Xiaomi Mi handset will use the brand new 108MP Samsung Isocell Bright HMX – and it will do so before Samung integrates the sensor in its own product line, with the Samsung Galaxy S11.
By far the highest resolution mobile device ever, this phone will also have a higher megapixel count than any commercially available "proper camera" on the market – it possesses even more megapixels than the 102MP medium format image sensor in the Fujifilm GFX 100.
"WHOA! #100MP camera," tweeted Manu Kumar Jain, Xiaomi's global vice president. "Yes, we've been working on 100MP camera flagship phone! Beginning of 2019, we launched #48MP, & today all flagships use it. We'll soon disrupt the market again with #64MP camera. And then #100MP"
Redmi Note 8
Not content with releasing the world's first 108MP camera phone, Xiaomi is also racing to release the first 64MP smartphone – which is believed to be the Redmi Note 8.
Set to possess both a bigger battery and a superior screen-to-body ratio than the Redmi Note 7, little else is known about the Note 8 other than Xiaomi is hard at work on it – and that it is set to materialize soon.
Xiaomi under-display camera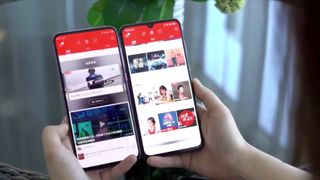 Like Oppo, Xiaomi is working hard on its own Under-Display Camera – and showed off an impressive display of the technology in a prototype Xiaomi Mi 9, which looked to be in a far more advanced state of development than its rival.
Xiaomi says that the cathode and anode panels of the screen are transparent in the area around the camera, ensuring that light can be received by the lens and sensor.
The company filed a patent for a photosensitive screen function in November last year, which uses two separate screen display portions to alternately facilitate the passage of light to the hidden camera.
Unless Oppo pulls a rabbit out of its hat, it appears that Xiaomi's tech will hit the market first…
More smartphone news and rumors: iPhone news • Samsung Galaxy news • Huawei / Honor news • Oppo news • Google Pixel news • Other smartphone news