Xiaomi news
Nipping at Apple's heels, Xiaomi is currently the fifth largest producer of smartphones in the world – but a strategic alliance with Samsung looks set to propel the Beijing brand to even greater heights.
Xiaomi has partnered with Samsung on the South Korean giant's new generation of Isocell Bright 64MP and 108MP image sensors – which have debuted in Xiaomi phones before they've even appeared in Samsung's own devices. That gave the Xiaomi Mi Note 10 bragging rights of being the first 100-megapixel camera phone to hit the market – though the Samsung Galaxy S20 Ultra isn't far behind…
Xiaomi Mi Mix Alpha 2 ?
Having already released the world's first 64MP and 108MP handsets, Xiaomi is unquestionably on the cutting edge of camera phone tech. When it revealed its Mi Mix Alpha in September, promising a 108MP and a Surround Display with 180.6% screen-to-body ratio, it looked like a glimpse into the future.
Well, the future may be here sooner than we thought. The 108MP sensor is already a reality, and although the concept phone never made it to mass production it has sparked a raft of new patents by Xiaomi.
The most recent design describes a very Mix Alpha-like phone, with a similar wraparound Surround Display. However, while the original Alpha featured a thin area down the back of the phone that accommodated the camera unit rather than the screen, this new design has a screen more like a book jacket; the display covers the front, left-hand side and back of the camera, leaving the right-hand edge free to house a camera module.
Since the front of the phone bears no visible hole-punch or notch, it appears that Xiaomi might employ its Under Screen Display technology (below) to hide the forward selfie camera beneath a photosensitive screen. It looks like the progeny of the Xiaomi Mi Mix Alpha might make it to market after all…
Xiaomi under-display camera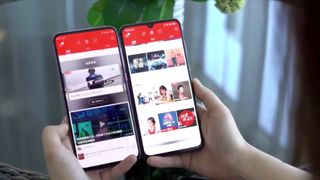 Like Oppo, Xiaomi is working hard on its own Under-Display Camera – and showed off an impressive display of the technology in a prototype Xiaomi Mi 9, which looked to be in a far more advanced state of development than its rival.
Xiaomi says that the cathode and anode panels of the screen are transparent in the area around the camera, ensuring that light can be received by the lens and sensor.
The company filed a patent for a photosensitive screen function in November last year, which uses two separate screen display portions to alternately facilitate the passage of light to the hidden camera.
Unless Oppo pulls a rabbit out of its hat, it appears that Xiaomi's tech will hit the market first…
More smartphone news and rumors: iPhone news • Samsung Galaxy news • Huawei / Honor news • Oppo news • Google Pixel news • Other smartphone news