Apple's revolutionary iPhone X launched in September last year, and it proved to be a brilliant smartphone for photographers. Now, rumours are coming thick and fast about its successor, which is likely to launch in September 2018.
While there are still some details we don't know – like if it will be called the iPhone XI, the iPhone 11, or even the iPhone X2 – there have been enough rumours, especially regarding its camera capabilities, which makes us very excited indeed.
So, in this article we've gathered together everything we know so far about the iPhone XI, as well as what we, as photographers, would like to see in Apple's upcoming smartphone.
iPhone XI release date
We don't have an official release date for the iPhone XI, but because Apple is a company of habit, we can make a pretty confident prediction that the iPhone XI's release date will be around September 2018.
Apple usually launches its new iPhones around this time, and it would mark the one year anniversary of the iPhone X, so it makes sense for Apple to release its successor then.
If Apple sticks to its usual schedule, we'll likely have an announcement of the iPhone XI (or whatever it will be called) in early September 2018, with a release date when you can buy it in stores or online around two weeks later.
Of course, things can change, and it's worth remembering that the iPhone X's launch was delayed when it came to shipping the devices. This was caused by problems producing components for the new phone.
Hopefully this year's iPhone XI won't experience the same issues, and it's rumoured that Apple will begin trial production in the second quarter of 2018, which is earlier than usual, in a bid to avoid any delays.
iPhone XI price
While we currently don't know the specifics, there's no doubt that the iPhone XI's price is going to be high – very high.
Last year's iPhone X cost a whopping £999 for the cheapest option. Judging by Apple's pricing in the past, we're not expecting the iPhone XI or iPhone 11 to come with a cheaper price tag.
What we think is likely to happen is that the iPhone XI will launch at the same price as the iPhone X did, while the iPhone X will get a bit of a price drop when its successor arrives.
If you think that £999 is far too much to pay for a smartphone when it can get you a nice lens or two, then there may be good news. According to rumours from KGI analyst Ming-Chi Kuo, who has leaked accurate details of previous Apple products, Apple is looking to launch two high end phones with OLED screens, alongside a 6.1-inch iPhone with an LCD screen.
While the OLED screens will make our photos looks fantastic, the cheaper LCD screen could mean a lower price tag, perhaps around the £500 mark.
Unnamed supply chain sources speaking to Chinese site Economic Daily have also claimed that Apple will launch two versions of the iPhone XI: one a high-end handset codenamed "Lisbon" and a lower-end one known as "Hangzhou" in 2018.
iPhone XI design
The iPhone X had a revolutionary design that made it look like no other iPhone Apple has ever launched, and we'd wager that Apple will stick quite closely to the design for the iPhone XI.
We've also seen video renders of what the iPhone XI will look like, which you can see in the video below.
These renders have been shared by MySmartPrice and OnLeaks, and are said to be based on an iPhone with a 6.5-inch screen, which means we could see an iPhone XI Plus as well as a normal-sized iPhone XI, which is rumoured to get the 5.8-inch OLED display size we saw with the iPhone X.
What the renders show us is that the iPhone XI will likely look a lot like the iPhone X, with the dual-lens camera intact. The real meat of the upgrade will be housed within the iPhone XI's body, where it's likely to be filled with more powerful components.
iPhone XI rumours
So, what else have we heard about the upcoming iPhone XI? One of the most exciting rumours deals with the two sizes of the iPhone XI.
Ming-Chi Kuo claims that the iPhone XI will come in 5.8-inch and 6.5-inch sizes, with the 6.5-inch model's screen coming with a pixel density of 480 – pixels per inch (PPI), while the 5.8-inch iPhone XI will have a density of 458ppi.
If these rumours are true, it means we'll be getting handsets with some incredibly sharp displays, which will make taking photos on them, and viewing them, a joy.
The larger screen sizes will mean the phones are also larger, but that could be good news as well, with Kuo claiming that the 5.8-inch iPhone XI will feature a battery that is 10% larger than the one found in the iPhone X, while the 6.5-inch model will have a battery that's around 25% larger.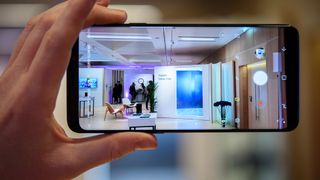 Larger batteries are always welcome, as it's never nice if your phone dies halfway through the day, especially if you're using it as a camera as well.
We should also see a speed boost, with leaked benchmarks suggesting 4GB of RAM and a 2.49GHz hexa-core chipset. These upgrades would make multitasking, and running intensive photo and image editing apps, even better.
Camera-wise, there have been rumours of Apple adding a third lens to the rear of its iPhones, although that may come in 2019 with the iPhone XII.
This year, we're probably going to get a similar dual-lens setup with the iPhone XI. Considering how good the iPhone X's camera is for taking photos, that may not be a bad thing.
However, the front-facing 'selfie' camera may be getting a boost, with a patent hinting that Apple is looking at ways to boost the single-lens front camera so that it can sense depth as well.
iPhone XI: what we want to see
While we wait for more information to emerge about the iPhone XI, we've listed some of the top new features we'd love to see Apple introduce with its upcoming smartphone.
Improved camera
The iPhone X came with a great camera, but as photographers we're always after improved snappers in our smartphones. We'd like the iPhone XI to come with an upgraded camera that tackles some of the issues we had with taking photographs with the iPhone X.
So, we'd like to see much improved low-light performance when taking photos indoors, as well as more vibrant HDR photos. An updated camera app that let us tweak the cameras settings even more would also be appreciated.
No camera bump
Gosh, we want it all don't we? Not only would we love to see an upgraded camera on the iPhone XI, but we also want the rear camera to lose the bump where its lens extends out of the iPhone's body.
This protrusion looks a little ugly, and it also means the camera is at more risk of damage than if it was flush against the back of the handset (as the camera bump is the first thing to hit a surface when you put it down).
Realistically, the only way Apple could do this is by making the body of the iPhone XI thicker. We'd argue that's a price worth paying.
Lower price tag
Speaking of price, we'd love to see a cheaper iPhone XI. We'll never get a budget version, but something that doesn't break the bank quite so much would be brilliant. Being a photographer is an expensive life at the best of times, so we'd love to see a more affordable iPhone XI.