Sony RX100 III vs RX100 IV vs RX100 V vs RX100 VI: Viewfinder and LCD
RX100 III: 3in tilting LCD, 1.229m dots; EVF with 0.59x mag. and 1.44m dots
RX100 IV: 3in tilting LCD, 1.229m dots; EVF with 0.59x mag. and 2.36m dots
RX100 V: 3in tilting LCD, 1.229m dots; EVF with 0.59x mag. and 2.36m dots
RX100 VI: 3in tilting touchscreen, 921k dots; EVF with 0.59x mag. and 2.36m dots
All four models feature built-in electronic viewfinders that offer 100% coverage of the scene. The only main difference here is that the RX100 III's viewfinder has a resolution of 1.44million dots, whereas the three newer cameras have improved 2.359million-dot panels.
One smaller change is that, on the newest RX100 VI, there's no need to pull the viewfinder out towards you once you pop it up before you start using it, as it all conveniently happens in one action.
All four models also have a similar LCD screen that tilts 180° upwards – ie all the way around to face the front – although the RX100 VI is the only model from the quartet to offer a touchscreen, which is largely used for selecting the focus point rather than navigating the menus.
Furthermore, while the screens on the other three cameras tilt 45° upwards, the RX100 VI's display can be adjusted 90° upwards. Its resolution, however, is a little lower, which appears to be down to the fact that it uses a standard RGB panel rather than the Sony WhiteMagic RGBW-type panel used on the others.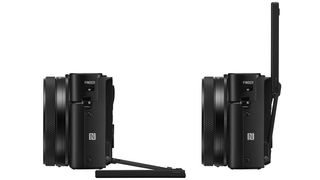 Sony RX100 III vs RX100 IV vs RX100 V vs RX100 VI: Build and design
RX100 III: 290g (inc. battery and card); 102 x 58 x 41mm
RX100 IV: 298g (inc. battery and card); 102 x 58 x 41mm
RX100 V: 299g (inc. battery and card); 102 x 58 x 41mm
RX100 V: 301g (inc. battery and card); 102 x 58 x 43 mm

There's very little to split these four in terms of build and design.
The tough, aluminium bodies have an identical control layout, with no discernible difference in size nor weight between them. The fact that all four lack a grip of any sort doesn't sit well with everyone, but optional grips do exist for the benefit of those who fall into this camp.
Given that the only real difference between these is the Roman numerals after the RX100 symbol, this is clearly a design Sony believes in.
Sony RX100 III vs RX100 IV vs RX100 V vs RX100 VI: Other features
Once again, we're looking more at similarities than differences when it comes to features.
All four have Wi-Fi and NFC connectivity, and all three lack Bluetooth and GPS. Time-lapse shooting isn't possible on any of the three straight out of the box, although a paid-for app that enables this is available through Sony's PlayMemories store.
The RX100 III is the only one of the four that does not have an option to set the minimum shutter speed when using Auto ISO, a useful feature that's included in the others.
The fastest shutter speeds vary between the cameras too. You're limited to a maximum 1/2000sec with the RX100 III, but the later three models each offer a maximum shutter speed of 1/32,000sec.
All feature a built-in flash, HDMI and USB ports, and a single card slot that accepts SD, SDHC and SDXC memory cards (and Sony's own MemoryStick format). There's no hotshoe on any of these three – a feature dropped after the RX100 II – so it's not possible to physically mount any accessories on top of any of these cameras.
Sony RX100 III vs RX100 IV vs RX100 V vs RX100 VI: Battery life
RX100 III: NP-BX1 battery, 320 shots (LCD)
RX100 IV: NP-BX1 battery, 280 shots (LCD); 230 shots (Viewfinder)
RX100 V: NP-BX1 battery, 220 shots (LCD); 210 shots (Viewfinder)
RX100 V: NP-BX1 battery, 240 shots (LCD); 220 shots (Viewfinder)
It seems as though one downside of certain new features introduced with successive models is their hunger for power.
All three use the same NP-BX1 battery unit, but the older RX100 III has the best battery life of the three, with 320 shots per charge (when using the LCD). This is fairly respectable for such a small camera, and the 280-shot battery life of the RX100 IV isn't too far behind, although this figure drops to just 220 frames on the RX100 V. Sony did, however, manage to boost this back to 240 frames on the RX100 VI.
If you think this might be an issue, you may wish to either invest in another battery or carry a powerbank with you so you can recharge the battery, inside the camera, while on the move.
Verdict
Sony clearly found a formula that worked with the original Cyber-Shot RX100, and the following iterations adhere to a very similar core feature set.
Each version has been tweaked, with new features added (and, on occasion, removed) that continually make the cameras in the RX100 series among the most compelling on the market.
In these latest four versions, the changes have mainly reflected Sony's innovations in video, sensor design, autofocus and processing power.
What you get in the RX100 VI is the fastest RX100 camera yet with the longest focal range, with a 315-point phase-detect AF system, 24fps high-speed shooting with full-time AF and the most comprehensive video set yet on top of it. It is, however, very similar to the previous RX100 V, so if you don't need that lens you can save yourself some money by opting for the older of the pair.
If stills photography is your thing, and you don't imagine shooting too much action, there's little reason to buy the later models, save for the improved focusing system on the RX100 V and RX100 VI. All four are very capable for cameras of their kind, and well worthy of the enthusiast's attention.
Read more: The best cameras under £500 right now