For some people, it's the availability of one or two features that are crucial to their shooting that pushes them to a mirrorless system. There are far too many to go into here, but even if we just focus on one, namely the silent shutter, we can see what kind of a practical difference this can make.
Anyone frequently shooting in conditions where discretion is key will appreciate a camera's ability to shoot silently, not just quietly. DSLRs may offer 'quiet' or 'silent' shutters, but these simply damp or delay the mechanical sound and can't eliminate it. Having said that, the Nikon D850 offers a genuinely silent live view mode – it's not just mirrorless cameras that can do this.
In some instances, the technologies that camera makers have had to develop for mirrorless cameras can also benefit DSLRs. The Dual Pixel CMOS AF in Canon DSLRs like the EOS 5D IV and EOS 80D is one example, and the silent shutter mode in the Nikon D850 is another.
Mirrorless cameras still need mechanical shutters, even if they don't need mirrors. At the moment, 'electronic' shutters don't capture the whole sensor fast enough to capture fast-moving subjects, so although they offer super-fast shutter speeds for wide apertures on bright days, they're no good for moving subjects.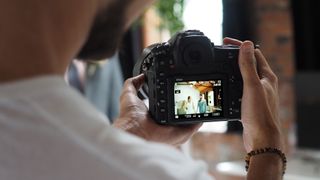 When to choose a DSLR
Mirrorless camera zealots will argue, but the fact is that this is not a one-way fight. DSLRs have disadvantages, but they have advantages too. They're bigger, fatter, chunkier and more 'grippable'. They handle better with bigger lenses (and lenses are getting bigger, year by year) and they have more space for external controls, so you spend less time navigating digital interfaces, tapping at touchscreens (try that when they're damp with mist or rain or you're wearing gloves) and their batteries last all day instead of just the morning.
They also have optical viewfinders. Mirrorless users might not care, but DSLR fans would never swap the 'naked eye' viewfinder image of a DSLR for a digital simulation, no matter how good.
There's another thing. If you're on a tight budget you'll have to work hard to find a mirrorless camera with a viewfinder for the same price as a DSLR – and all DSLRs have viewfinders. Actually, we'll go further. You cannot get a mirrorless APS-C camera with a viewfinder for the same prices as a Nikon D3500 or a Canon EOS 2000D. Except for the Sony A6000, but that's a five-year-old camera.
DSLRs are still a great choice if you like your cameras big, chunky and physical. They can do video too, but if that's your main interest then probably you should be looking at a mirrorless camera instead.
When to choose mirrorless
Mirrorless camera bodies are smaller and, if you choose carefully, you can get smaller lenses to go with them – though this only really holds water with the Micro Four Thirds format, as APS-C mirrorless cameras come with lenses as large as their DSLR counterparts.
If you're an Instagramer, influencer, blogger or blogger, a mirrorless camera like the Olympus PEN-EPL9 or Canon EOS M50 is perfect. They're small, light and adaptable and have tilting/vari-angle screens that let you shoot from all sorts of angles. They're great for both video and stills and can easily fit in an everyday bag.
If you're a pro or semi-pro videographer, mirrorless is the way to go here, too. This is where all the video development in cameras, lenses, hardware and accessories is happening with cameras like the Nikon Z 6 and Sony A7 III.
But if you're a regular stills photographer who occasionally dabbles in video, the choice is tougher and you have to decide for yourself which you prefer. The market is heading towards mirrorless, but DSLRs aren't done yet, and there are plenty of people out there who would like this resilient and adaptable old camera design to keep on going for ever.
DSLRs aren't done. Mirrorless cameras might be the future, but the future isn't here yet, and for now the DSLR design still does a few things brilliantly where mirrorless cameras are still playing catch-up.
Read more:
• The best DSLR cameras in 2019
• The best mirrorless cameras in 2019