If you're looking for a summertime feeling but can't quite bear the brashness of a light leak, look no further. This action is warm and soft without the overbearing colour effect.
The name may suggest that this pack reeks of amateurism, but there are some extreme effects here that you can no doubt finesse further in Photoshop. Try some of these in your HDR images and reduce opacity for striking clarity...
...and if you'd like your HDR to be ready made, then maybe stick with this. There are various levels of effect too, depending on how severe you'd like the effect.
It's a juggling act to make skin glow without it losing any of its detail. This action toes the line perfectly and can be a great effect for portraits.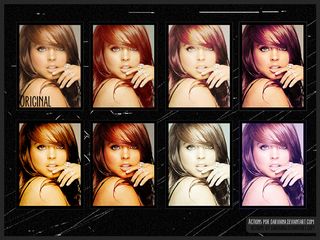 These colourful effects feel very Polaroid without being overly generic. They're good for portraits but can give your landscapes a wonderfully sunny feel.
This action has a rose gold quality about it and is a good pick for anyone looking to inject a touch of warmth into their photos. It's oft without losing quality and enhances reds and pinks.
If you're a wedding photographer, you're going to want to get your hands on this. White dresses are brightened, idyllic scenery given more vibrancy and a touch of warm is applied in this effect.
A different kind of vignette, this action can touch black around the edges of your images without creating a circular focus, while reducing your shot to black and white.
These 14 actions contain Red Haze, Action Movie and Retro Camera; there's something for any photo here, and as the name suggests, they're great quality.
Everything you've ever wanted to colour grade is simple to fix with this pack. With a range of classy options too, these make great split tone effects.
Sort your portraits with this effect pack, which includes adjustments and edits to get the best out of your models.
With exposure fixes and simple tints, this action is a simple but useful effect for the more subtle edits that you make in your photos. If you just want to fix tone and inject colour, this is the action for you.
Clarity in Camera Raw can be too overbearing and High Pass in Photoshop often doesn't do enough. This is a happy medium with controlled contrast and basic vibrance.
With so many stunning warm filters, there are fewer top quality cold effects for your images. This is one that can give a beautiful coolness to your images and leave the subjects smouldering - even if they are big cats.
For a classy, blue-tinted finish, this action is great for portraits and dark images a-like. It tones your shots nicely, with a warm orange injected too for good measure.
These simple colour filters are fairly basic but fun effects for you to try out. They're great for social media and can switch your tone up nicely.
One of a wide Color collection from Primaluce, this is our pick: an interesting Action that's useful for both landscapes and portraits.
They say that the eyes are a window to the soul. Brightening eyes up is a must for any portrait, and this action is great for increasing the vibrancy and exposure without altering the colour.
Keep your photos sharp and clean with this effect; it's equally great for portraits, still life and landscapes, and can deliver a better focus to your images.
You can never have too many retro actions; this one is capable of an almost burned feel and gives an almost 70s vintage with its brown tint.
If you like your retro effect with a touch of bright saturation, this is the one for you. Pinks are supercharged here, while a soft fade illuminates the rest of your image.
More free resources: 63 free Lightroom presets for photographers