Full-frame DSLRs: photographic powerhouses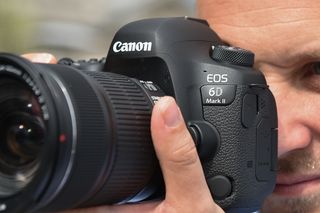 DSLRs with full-frame sensors, or simply full-frame DSLRs, continue to be some of the most desirable types of cameras for enthusiasts, and are the most popular type of camera among many professional photographers.
They combine a large sensor that offers very high image quality with plenty of manual control, together with access to decades' worth lenses for maximum flexibility and the support of many accessories, such as flashguns, adapters and teleconverters.
Pros: Plenty of lens options, together with their easy-to-handle form and great image quality mean that they tick all the right boxes for the more demanding user. and their design provides great support for longer, heavier or just generally more exotic lens options.
Cons: Full-frame DSLRs are still somewhat expensive, and lack some of the niceties of mirrorless full-frame alternatives. Some photographers find their bodies to be larger than equivalent mirrorless options too, although the difference is smaller when comparable lenses are mounted.
Great for: Anyone progressing from an APS-C DSLR, or with a collection of older lenses that they may want to continue using. Full-frame DSLRs are great all-rounders, and manufacturers put a lot of effort into making these perform to a high standard, so you're unlikely to be disappointed.