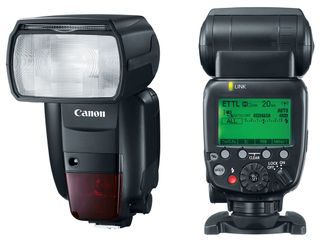 15. Canon Speedlite 600EX II-RT Flash
A powerful, high-performance flash that's ideal for fast frame-rate shooting
Guide number: 60m at ISO 100 | Frequency: 1-500Hz (199Hz using optical receiver function) | Wireless transmitter: Optical / Radio
Very powerful
Good for fast-frame-shooting
Impressively weatherproofed
Mark I unit competes on price
The flagship model in Canon's Speedlite family, Canon's EX600 II-RT packs a powerful guide number of 60m at ISO 100) and can be fired from up to 30m away, using built-in radio or optical control. Used either off-camera or in the hotshoe, this top-of-the-line flash unit offers full tilt-and-swivel control, and it can also fire 50 per cent more flashes continuously than Canon's previous mark I version. Handily, it's Weatherproofed to same level as the flagship EOS-1D X Mark II body.
Also read: How to use flash for your photography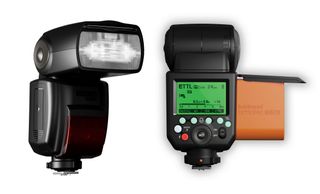 16. Hahnel Modus 600RT
More features for less money – simple!
Works with: Canon, Nikon, Sony | Bounce: -7 to 90 degrees | Swivel: 180/180 | Zoom range: 20-200mm | Wide-angle diffuser: 14mm | Manual power settings: 1/1 to 1/128 | Dimensions: 64 x 76 x 190mm
Great performance and features
Outstanding value
High-capacity lithium-ion battery
Lacks any weather-sealing
The Hahnel Modus 600RT flashgun matches or beats the features of camera manufacturers' own-brand flagship models, but at a fraction of the price. Three different options are available, so you can buy the flashgun on its own, or as a wireless kit that includes a hotshoe mounting Viper RF (Radio Frequency) transmitter. There's also a pro kit that comprises two flashguns and a Viper trigger, enabling the versatility of dual-flash lighting setups.
17. Nissin NI-HDI702S Commander Air 1 Kit
Compatible with DSLR and mirrorless systems, this kit has massive appeal
Works with: Canon, Nikon, Fujifilm, Sony and Micro Four Thirds
Value for money
Works with different systems
Not the most refined in appearance
The Nissin NI-HDI702S Commander Air 1 Kit is a value-for-money combo. It includes a powerful external flashgun that boasts a high guide number of 54 (m at ISO 100) with an advanced wireless trigger. This enables photographers to use the flashgun off camera to create dramatic, directional lighting.
18. Nissin MF18 Macro Flash
This affordable unit boasts a clever expanding design for larger lenses
Supports: Canon E-TTL/E-TTL II, Nikon i-TTL
Cheaper than equivalent units
Clever expanding design
Some adaptor rings not included
PhotoPlus magazine bestowed the Nissin MF18 Macro Flash with a Best Value Winner badge in its last group test. With flash-heads placed around the lens, the unit will illuminate close-up subjects without casting shadows on them. You even get a High Speed Sync (HSS) mode, should you need it. Just bear in mind that 49mm, 55mm and 82mm adaptor rings need to be bought separately.
Read more: The best digital cameras
19. Phottix Aether Collapsible Ring Flash Adapter
Turn your regular flash into a ring flash in an instant with this camera accessory
Works with: Hot shoe-mounted flashguns
Use on or off camera
Very affordable
Dedicated ring flashes more convenient
The quirky looking Phottix Aether Ring Flash Adapter is a collapsable ringflash that turns any flashgun into a studio-style ring flash. The lighting accessory folds down into a compact size and helps deliver a shadowless style of lighting that's popular with portrait photographers, and Phottix has even thrown in a two-year warranty.
20. Rotolight NEO 2
This bi-colour panel bring the benefits of LED technology to flash shooters
Panel: Bi-colour LED (3150-6300K range)
Unmatched functionality
Many advantages over flashguns
Large for a hot shoe-mounted unit
The Rotolight NEO 2 is the winner of both the Best on Test and Gold Awards in a recent Digital Camera roundup. This second-generation update to the acclaimed NEO model combines an LED panel with high-speed-sync flash to deliver a whopping 85,000 (yep 85,000) flashes per charge and no recycling times, as well as a three-hour battery life that makes it great for continuous video recording. It sounds too good to be true, but it is true and we love it.
21. Lastolite by Manfrotto Joe Mcnally Ezybox Speed-lite 2 Plus
Pop this mini softbox on your flash for instantly flattering light
Works with: Hot shoe-mounted flashguns
Great for mobile photography
Compact size when folded down
Good build quality
Not the cheapest of its kind
The Lastolite Joe McNally Ezybox Speed-Lite 2 Plus is perfect for the mobile portrait photographer. This mini softbox helps bring soft, studio-style light to on-location shoots, easily slipping onto the front of your external flashgun. It can be used while the flashgun is on the camera or set up on a stand, and folds up to save space in your kitbag. You can even use it in conjunction with other Lastolite accessories such as honeycombs or gel holders.
22. Rogue FlashBender 2 Portable Lighting Kit
This kit will let you modify your flashgun's output in a raft of different ways
Contains: Large Reflector, Small Reflector, Large Diffusion panel, Small Diffusion Panel, Rogue Flash Gels (Combo Filter Kit), Rogue 3-in-1 Flash Grid (Stacking Grid System), Rogue Grid Gels (Combo Filter Kit), Rogue FlashBender Travel Bag
Lots of light-modifying options
Really fun to use
Could be awkward to keep everything in one place
The Rogue FlashBender 2 Portable Lighting Kit is the well-deserved recipient of Best on Test and Gold Award badges in Digital Camera's recent group test. This kit includes a range of light modifiers and gels to let you do a whole heap of things with your flashgun. Build quality is excellent and, above all else, it's really fun to use.
23. Nanguang LED On-Camera Light
For those on a budget in need of some powerful LEDs
Panel: Bi-colour LED (3200-5600K range)
Superb value for money
Can be locked with other units
No low-battery shut off
The Nanguang CNLUX1600C on-camera lighting head, which was recently awarded Digital Camera's Great Value award, sits on top of your camera via the hot shoe mount and has its colour temperature adjusted between a 3200-5600K range. Powered by six AA batteries, multiple units can be banded together to create a larger lightbank, each carrying 160 LEDs and boasting 50,000-hour lifespan.
24. Rode VideoMic Pro R
Get serious audio from this lightweight, shockproof-mounted mic
Fits: DSLR and mirrorless cameras with a 3.5mm mic port
Great sound quality
A respected audio brand
Batteries fiddly to access
The Rode VideoMic Pro R is a well-loved shotgun mic that's suitable for use by professional videographers and powered by a simple 9v battery. The camera accessory sits on the hot shoe mount and connects via a 3.5mm jack – and has been designed with a Rycote Lyre suspension cradle to reduce any unwanted noise caused by knocks or movement.
Next page: Tripods, monopods and other supports