FX-format lenses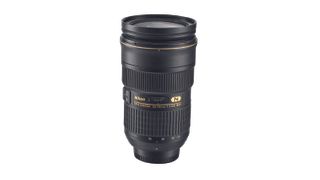 1. Nikon AF-S 24-70mm f/2.8E ED VR
New, improved and stabilized, it's simply the best
Effective zoom range: 24-70mm | Lens construction: 20 elements in 16 groups | No. of diaphragm blades: 9 | Minimum focus distance: 0.38m | Filter size: 82mm | Dimensions: 88x155mm | Weight: 1070g
Vibration reduction
Excellent sharpness and contrast
Vignetting at wide apertures
Some fringing and distortion
The original Nikon 24-70mm f/2.8G lens was launched ten years ago. This new 'f/2.8E' edition is a major revamp. It has an all-new optical layout, even tougher build, and the added attraction of VR, rated at four stops. There are four ED elements in total, plus an HRI (High Refractive Index) element, Nano Crystal Coatings, fluorine coatings on the front and rear elements, and best of all, an electromagnetically controlled diaphragm. As such, the lens features a host of Nikon's latest technical innovations, along with quick and whisper-quiet ring-type ultrasonic autofocus. The electromagnetically controlled diaphragm enables very consistent exposures in rapid-fire continuous shooting. Sharpness and contrast are both excellent, and there's particularly good resistance to ghosting and flare. However, vignetting is pronounced at wide apertures, and colour fringing and distortion can be noticeable.
2. Tamron SP 24-70mm f/2.8 Di VC USD for Nikon
A top-notch lens that offers outstanding value
Effective zoom range: 24-70mm | Lens construction: 17 elements in 12 groups | No. of diaphragm blades: 9 | Minimum focus distance: 0.38m | Filter size: 82mm | Dimensions: 88x117mm | Weight: 825g
Rapid and quiet autofocus
Handling and weather-seals
Optical stabilization
Corner-sharpness soft
The combination of a 24-70mm zoom range with a fast f/2.8 constant aperture is a favourite of many creative photographers. This Tamron lens stole a lead on its competitors by adding optical stabilization into the mix. The Tamron looks and feels like a truly professional-grade lens. It's not only robust, but it was Tamron's first lens to boast weather seals. Posh glass includes three LD (Low Dispersion) and two XR (Extra Refractive index) elements. The Tamron comes pretty close to the much more expensive Nikon 24-70mm f/2.8 lens on test for centre-sharpness throughout most of the zoom range. However, it drops off a little more at the long end, and is somewhat softer towards the corners of the frame at all zoom settings. Autofocus is rapid and whisper-quiet.
3. Sigma 24-105mm f/4 DG OS HSM | A for Nikon
Never mind the aperture, check out the range
Effective zoom range: 24-105mm | Lens construction: 19 elements in 14 groups | No. of diaphragm blades: 9 | Minimum focus distance: 0.45m | Filter size: 82mm | Dimensions: 89x109mm | Weight: 885g
Impressive image quality
Extended zoom range
No weather-seals
A bit weighty
Sigma's Art lenses tend to have extra-wide apertures for enabling a tight depth of field, but in this case Sigma has gone for an extended zoom range at the expense of a drop in aperture rating from f/2.8 to f/4. In terms of build quality and handling, this lens feels like a step up from Sigma's DX-format lenses and, like other FX-format lenses in the group, and this one features ring-type ultrasonic autofocus. Two FLD (Fluorite-grade Low Dispersion) and two SLD (Special Low Dispersion) elements are included, but there are no weather seals. Considering the generous zoom range of this lens, image quality is impressive: there's plenty of contrast and centre-sharpness, even when shooting wide-open at f/4. The Sigma also beats both of the competing Nikon FX-format lenses when it comes to minimizing lens distortion.
4. Nikon AF-S 24-120mm f/4G ED VR
This lens rules the roost for telephoto reach
Effective zoom range: 24-120mm | Lens construction: 17 elements in 13 groups | No. of diaphragm blades: 9 | Minimum focus distance: 0.45m | Filter size: 77mm | Dimensions: 84x104mm | Weight: 710g
Large zoom range
Improved optical stabilizer
Build and handling
Centre-sharpness drop-off
An upgrade of Nikon's original 24-120mm VR lens, this has a more effective, new-generation optical stabilizer (rated at up to four stops), and a constant f/4 aperture, instead of it shrinking from f/3.5 to f/5.6 through the zoom range. Like the other Nikon lenses on test, it feels reassuringly well built and features a rubber weather-seal ring on the mounting plate. Handling is excellent, with smooth operation of the zoom and focus rings. Optical highlights include two ED elements and Nano Crystal Coating. The autofocus and Mk II VR systems work well, but the Nikon loses out to the competing Sigma 24-105mm for centre-sharpness, especially in the longer half of the zoom range. The flip side is that the drop-off in corner-sharpness is less noticeable. Overall image quality is very satisfying.